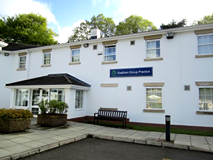 Eastham Group Practice
Treetops Primary Healthcare Centre, 47 Bridle Road, Bromborough, CH63 6EE
It's Tuesday 6:21 AM — Sorry, we're closed
Telephone: 0151 327 1391
Fax: 0151 327 8670
WICCG.easthamgrouppractice@nhs.net
Welcome to Eastham Group Practice
Welcome to Eastham Group Practice, providing health care to the patients of Bromborough, Eastham and the surrounding areas. We hope you take the time to browse our website where you will be able to find information about the surgery and the services we offer.
Our Practice Vision
"To develop and improve the delivery of primary health care and to achieve excellence within an ever changing and demanding climate.
To be efficient and effective and to value our patients and staff to ensure are cared for within a friendly environment by professional, competent and motivated staff."
This being supported by the Practices' already agreed core values which are:
Probity

Openness
Fairness
Respect
Accountability
Trust

Mutual Support
Profitability
We are committed to having approaches to work and service provision that enables Partners and members of the Practice Team to maintain a healthy work life balance.
The Practice continues to pride itself on providing high quality medicine whilst building good relationships with patients and the local community which it serves. We have the on-going aim of being respected by our peers and we endeavour  to build good working relationships with all our partners and stakeholders in the local healthcare community.
Two partners are GP Trainers and five partners in total train and support medical placements in the Practice. This reinforces how important education and personal development is to the Practice. We have a shared objective of developing and embedding a learning culture within the Practice.
The Practice is committed to the local community and actively engages with local charities.
The following provide the building blocks for the sustained achievement of above:
Patient Care
Proving and giving our patients access to high quality patient care is the Practice's number one priority.
Patient Participation
Our Patient Participation Group (PPG) is a key stakeholder in the Practice and where possible we seek to work in partnership with them.
Clinical Excellence
We are committed that our clinicians have the requisite skills individually and collectively have the right mix of skills to deliver practical clinical excellence.
The Practice Team
The contribution of each team member is highly valued and each individual is encouraged and given opportunities the realise their potential.
Premises
Our land-lorded premises are purpose built and provide a much valued professional working environment. The Practice will continue to stay alert for funding opportunities, which could enable the building to grow and meet the increasing needs of the Practice and its patients.
Finance
An on-going healthy balance sheet is seen as a key enabler of the sustained delivery of high quality service provision, and a reflection of a well-organised and well-run practice.
Business Systems
We continue to strive to successfully exploit technology in a way that benefits our patients and contributes to the increased effectiveness and efficiency of the Practice.
Continuous Improvement
We actively seek feedback on where we can do things better and we encourage continuous personal and service development.
Latest News
The Physicians Associate will see you now – A new role to assist patients in Primary Care
Eastham Group Practice are pleased to introduce Mr Ehtzaz Chaudhary as our new Physicians Associate. We have been fortunate enough to […]
News Archive
Primary Care Networks: Healthier South Wirral
Healthier South Wirral
Healthier South Wirral – Our Primary Care Network Since the NHS was created in 1948, the population has grown and […]