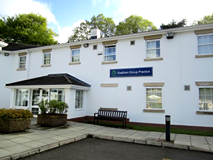 Eastham Group Practice
Treetops Primary Healthcare Centre, 47 Bridle Road, Bromborough, CH62 6EE
It's Saturday 2:58 AM — Sorry, we're closed
Telephone: 0151 327 1391
Fax: 0151 327 8670
WICCG.easthamgrouppractice@nhs.net
When the Surgery is closed
The Practice does close on a monthly basis for mandatory training sessions.  We advertise these closures in advance both on our website, and by putting up notices around the surgery to notify our patients. In the event of an emergency please telephone 07806954715.
Outside of normal Practice opening hours i.e. between 8.00am to 6.30pm, patients who have urgent medical problems that will not wait until the practice is open again should ring the NHS 111 Service by dialling 111.  This service is available to patients from 6.30 p.m. to 8 a.m. Monday – Friday, and 24 hours at weekends and on Public Holidays.
The 111 service, after taking a full history, will either:
Give advice on the telephone
Arrange to assess the patient either in their home or at a GP base
Admit the patient directly to hospital
Advise you to see your GP
Please direct any queries, comments or complaints directly to them by telephoning 111.
For assessment, treatment and advice for minor injuries and illnesses you should visit your local Walk-In Centre/Minor Injuries Clinic. These are nurse-led facilities that provide treatment for a range of minor ailments including: infection and rashes, emergency contraception and advice, burns and strains, coughs, colds and flu-like symptoms, sore throats and earache, bites and stings, minor cuts and wounds (wound care and dressings), skin complaints (rashes, sunburn, head lice), stomach ache, vomiting and diarrhoea, women's and men's health problems.  Suturing and treatment of joint and muscle injuries are services available at the Victoria Central Minor Injuries Unit. (Please see below)
Patients requiring primary care services at weekends and evenings for both routine and urgent problems can attend the one of the available Walk in Centres. Available services range from Doctors, Practice Nurses and Nurse Practitioners. Doctors and Practice Nurse
Details of the local services available are listed below:
Victoria Central Walk-in Centre
Mill Lane
Wallasey
CH44 5UF
Monday – Sunday (including bank holidays)
8.00am – 10:00pm
(X-ray facilities – open at 9.00am-8.30pm)
Eastham Walk-in Centre

Eastham Rake
Eastham
CH62 9AN

 

Monday – Friday 1.00-5.00pm

Saturday and Sunday (including bank holidays) 12.00-4.00pm

Arrowe Park Walk-in Centre
Arrowe Park Hospital
Arrowe Park Road
Upton
CH49 5PE
Monday – Sunday 8.00am – 10:00pm (including bank holidays
Moreton Health Clinic Minor Injuries/Illness Walk in Clinic

8/14 Chadwick Street

Moreton

CH46 7XA

| | |
| --- | --- |
| Mon | 10:00-19:00 |
| Tues | 10:00-19:00 |
| Wed | 10:00-20:00 |
| Thurs | 10:00- 20:00 |
| Fri | 10:00-18:00 |

Parkfield Medical Centre

New Ferry
Wirral
CH62 5HS

Monday – Friday 10.00am – 2.00pm
Miriam Medical Centre

Birkenhead Medical Building

1st Floor,

31 Laird Street

Birkenhead

CH41 8DB

Monday – Thursday from 10am-8pm Friday from 10am-6:30pm

Saturday, Sunday and Bank Holidays from 10am-5pm
Emergencies:
For life-threatening emergencies such as:
Severe Bleeding/Serious Injury
Collapse or Unconsciousness
Severe Chest Pains
Telephone 999 for an ambulance IMMEDIATELY