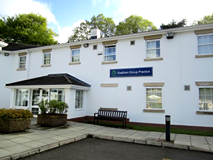 Eastham Group Practice
Treetops Primary Healthcare Centre, 47 Bridle Road, Bromborough, CH63 6EE
It's Monday 6:26 PM — We're open
Telephone: 0151 327 1391
Fax: 0151 327 8670
WICCG.easthamgrouppractice@nhs.net
Practice Staff
Doctors
Dr Karalie Bush (f)
Leicester 1984) M.B., ChB., D.G.M., M.R.C.G.P
Dr Margaret Porteous (f) (Senior Partner)
Edinburgh 1983, Qualifications M.B., Ch.B., M.R.C.G.P
Dr Karen Cooke (f)
Sheffield 1995, M.B., Ch.B., D.R.C.O.G., M.R.C.G.P
Dr Paula Cowan (f)
Dublin 1995, MB ChB LRCSPI DFFP DRCOG
Dr Sam Huddlestone (m)
Sheffield 2003, MBChB, MRCGP, DFSRH, PG Dip. Sports Medicine
Dr Kelly Fleet (f)
Liverpool 2006, MbChB, MRCGP, DRCOG
Dr Alison Hughes (f)
Leicester 2007, M.B. Ch.B (Hons) M.R.C.G.P.
Nursing Team
A nurse practitioner is an experienced nurse with additional specialist training. They are qualified to diagnose illness, decide on treatment and issue prescriptions. They usually see people with new illness and do not normally see people with on-going problems.
The practice now has 2 Advanced Nurse Practitioners that will be be your first point of contact for most acute illnesses that require an 'on the day 'appointment.
The type of conditions our Nurse Practitioners are able to treat are:
| | | | |
| --- | --- | --- | --- |
| | Generally unwell children | | |
| | | | |
| | | | |
| | | | |
| | | | |
| | | | |
| | | | |
| | | | |
| | | |   |
| | | |   |
| | | |   |
Our Nurse Practitioners offer telephone consultations and face to face appointments Monday to Friday, both AM & PM.
Our Practice Nursing Team, led by Sister Karen Atkins, consists of  5 qualified nurses. They run a number of clinics throughout the week and are highly experienced in assisting our GPs and supporting our patients.  They run a number of chronic disease management clinics including diabetes, asthma, COPD, as well as Dementia assessments, family planning clinics, travel immunisation sessions and child health immunisations.
The practice has over 600 patient's with diabetes, over 900 patients with respiratory disorders, over 400 patients with coronary heart disease and over 300 patients requiring anti-coagulation treatment. Our nursing team co-ordinate the care for all these patients and see them regularly to help control their symptoms. All of our nurses are highly qualified and are constantly looking to increase their knowledge and skills. The practice supports this in every way as it allows us to offer our patients a wider variety of services in the community.
Health Care Assistants and Phlebotomists
The practice currently has 1 Clinical Assistant and 2 Health Care Assistants (HCA's). Our HCA's  support our GP's and nurses in caring for our patients. They offer a variety of services including blood pressure checks, B12 injections, ear syringing, hearing tests and ECG monitoring.
Our HCA's help to look after our ever increasing elderly population. We have over 1200 patients aged 75+ and our HCA's along with a Nurse and a GP offer in-depth assessments to assess mobility, risk of falls, memory, care planning, carer needs and lifestyle advice.
Our HCA's also provide clinical support to Dr Cooke and Dr Huddlestone for Seafarers medicals including ENG and Oil & Gas.
As a practice we want to ensure all of  our staff are equipped to help and support patients within the boundaries of their roles and expertise. This has led to a culture of learning and development and as a result we are able to upskill our staff to  provide a wider range of patient services.
Admin Team
Rachel Stott
Practice Manager
Alison Clare
Reception Manager
Kevin Gately
Finance Manager
Liz Parkes
Medicines Manager
Susan Hoggarth
Medicines Manager