Local Services That Can Help You and Those in Need
Wirral Council have launched 𝗪𝗶𝗿𝗿𝗮𝗹 𝗜𝗻𝗳𝗼𝗕𝗮𝗻𝗸, an online resource to help you find support services near you during the 𝗖𝗢𝗩𝗜𝗗-𝟭𝟵 outbreak https://www.wirralinfobank.co.uk/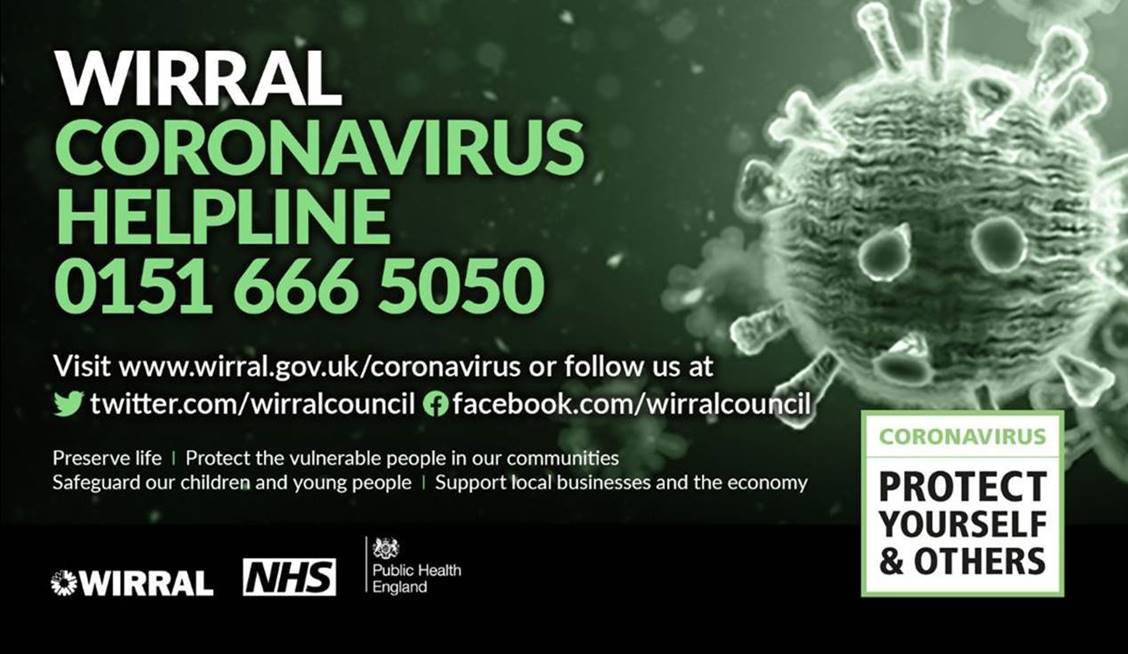 Wirral Coronavirus Helpline – 0151 666 5050
A Wirral Coronavirus helpline has been set up to support residents who don't readily have access to websites or social media, by providing advice and guidance on a range of service, community and business issues.
Age UK are offering:
shopping and delivery
telephone befriending
wellbeing checks
information and reassurance
To request support ring 0151 482 3456 (Monday to Friday 9am-4pm) Priority is to be given to people aged 70+ living alone
Tranmere Rovers Football Club has joined with charity HelpLink to provide support within the community:
Assistance with shopping
Assistance obtaining medication
Please email community@tranmererovers.co.uk or call 0151 6093325. Or you can access support by calling 0151 648 3322 or email helplink@btconnect.com or visiting helplink.org.uk online.
Wirral Callback Taxis have kindly offered their services to vulnerable patients who care self-isolating. They are willing to deliver:
prescriptions
shopping essentials
If you require assistance please ring Wirral Callback Taxis on 512 5222 or speak with the Surgery directly.
Wirral Mind, The Fountain Project –Wirral Mind is a charity supporting people who have mental health needs in the community of the Wirral. Their Community drop-in centre has been closed for drop-in services as of 20th March, but they are still offering alternative services.
Their telephone lines will still be open Monday to Friday 9am – 5pm, please call 0151 512 2200 and staff will be available to talk to you and answer any questions that you have.
You can also email:  learning@wirralmind.org.uk with any queries and or contact them via Facebook, Twitter and Instagram (@WirralMind).
Martin Gallier Project has launched a Suicide Crisis Helpline to ensure that their support is still available to Wirral residents during Covid-19.
Their phone service will mirror the way their centre operates, therefore support will be available to adults in a self-assessed crisis between the hours of 9.30 and 4.30 Monday to Friday. The service is open to Wirral residents only. Call 0151 644 0294.
Every Mind Matters has now released expert advice and top tips on how to look after your mental wellbeing if you need to stay at home during the coronavirus (COVID-19) outbreak. It also includes guidance if you're feeling worried or anxious about the outbreak.
Please visit: www.nhs.uk/oneyou/every-mind-matters/
Legal advice services that are providing advice over the phone:
Citizens Advice Bureaux -03444 111 444
Liverpool Community Advice – 0151 237 2677
Merseyside Law (Liverpool)- 0151 709 0504